Check out the new Apex 3 TKL, a full-fledged water-resistant TKL gaming keyboard with SteelSeries' cutting-edge technology in a compact form factor and budget price.
---
The best budget gaming keyboard is now available in a TKL version. The new Apex 3 TKL has all the same great features as the Apex 3 – just in a more compact esports form factor.
The Apex 3 TKL gaming keyboard is the first ever water resistant TKL keyboard. It also has the premium features of a serious gaming keyboard like a compact streamlined tenkeyless form factor, whisper quiet gaming switches that provide comfortable low friction performance for over 20 million keypresses, gaming-grade anti-ghosting so you never miss a keystroke, and brilliant PrismSync RGB lighting.
Get the full details:
The first water-resistant TKL keyboard
Spills happen. No worries. The Apex 3 TKL provides players with IP32 water and dust resistance for protection against spills. It accounts for wear and tear by arming players with a tough, durable keyboard and aids in preventing damage from liquids and dust particles, so you can continue to play no matter what happens to your keyboard.
---
Le format prisé par les champions de l'esport
Purpose-built for the needs of serious players and featuring a sleek, streamlined silhouette, the TKL design is the most popular form factor used by esports pros, enabling gamers to position the keyboard for both maximized in-game performance and comfort. Without the ten-key numpad, you have more space for large mouse swipes and it allows for better ergonomics while gaming.
---
Whisper quiet switches
Keyboards can be so loud your teammates can hear your keystrokes over the microphone. The new Whisper Quiet gaming switches are designed with durable low friction material for near silent use and guaranteed performance for over 20 million keypresses.
---
Technologie anti-Ghosting de qualité gaming
In the heat of battle, you can't afford to lose even one input. Advanced anti-ghosting technology allows you to game with confidence with the Apex 3 TKL. Même les frappes les plus rapides seront enregistrées grâce à la technologie anti-ghosting pour les touches de gaming les plus fréquemment utilisées.
---
Contrôles multimédia dédiés
Stay focused on what's important by not having to tab out to adjust settings. A clickable volume roller adjusts volume without having to look. Media keys help you to easily adjust your settings and media on the fly, instead of searching through applications and settings. Réglez la luminosité, revenez en arrière, passez une étape ou mettez en pause en appuyant simplement sur un bouton.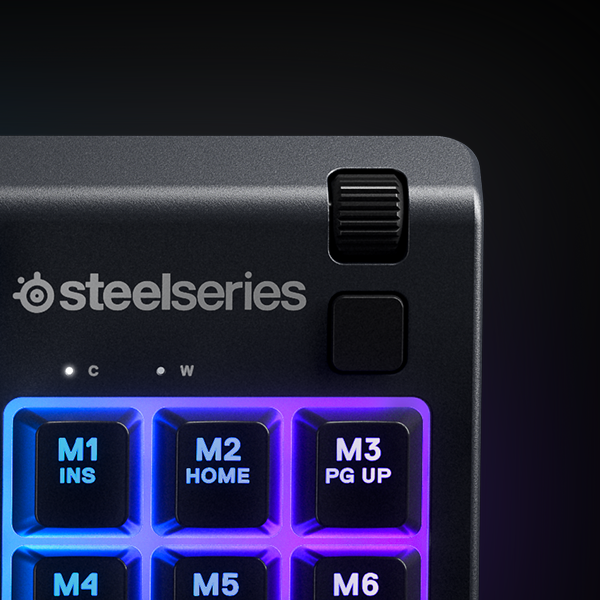 ---
Éclairage PrismSync éclatant
Redesigned lighting provides 8 zones of 16.8 million beautifully crisp colors that can synchronize with other SteelSeries products. Choose from millions of colors and effects from reactive lighting to interactive lightshows that bring RGB to the next level. And use our Engine software to configure brilliant lighting effects when specific game events happen.
---
The Apex 3 TKL comes in at $44,99 making it our most affordable full-fledged keyboard. And it's available in several language layouts. Shop now to go smaller and hype your swipe.
---
En savoir plus